Discover A Simple Solution To Becoming And Staying Fit, Healthy And Beautiful, For The Rest Of Your Life.
If you're reading this right now, you're probably a pretty healthy person that wants to know the TRUTH about how to be the healthiest version of yourself.  You many not have thought about it in those words, but becoming the healthiest version of yourself is probably what you're attempting to do.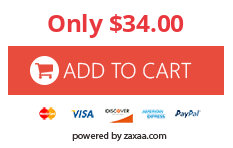 Sure, I know, being the healthiest version of yourself isn't ALL there is.  You want to look and feel good, and Live the life of your dreams as well, right?  Who doesn't?
Sorry, I CAN'T make All your dreams come true for you, as that has to come from you, but I CAN help you to look and feel great most of the time, and I think that will help you live the life of your dreams.
No matter what you've heard about health, fitness and nutrition from all the experts, for one reason or another, you're not satisfied with the results or information you've found up to this point.  My intention is to change that for you.
I've been a health seeker for most of my life, and my experience has given me a great understanding of my physical, mental, spiritual self, and helped me to achieve a great state, that's easy to maintain.
But this is about you.  I want to share what I've learned with you that's helped me, and specifically helped me to escape the confusion I had around food, eating and fitness.
There's a lot of Dogma out there around what's healthy and what's not, and some of it is not only NOT helpful, but it can do serious damage to you if you follow it like the Gurus recommend.
That's because they're not Gurus at all, and they have invested so heavily in their Dogma that they're scared to tell you the truth, which is, they don't know if what they're teaching you is really the best advice.
That being said, I have great knowledge to share with you, but my intention isn't to make you just like me.  I want to help set you free from the dogmas around eating and exercise and give you some practical tools you can start using immediately to feel and look your best.
But Don't THINK I don't have my own biases, and I'm telling you this so you know up front.  I'll tell you what bias I'm referring to right now, so when you start implementing what I share with you in this program, you will know this part of what I'm sharing is my own personal bias which you may or may not agree with.
First of all, I follow a primarily Vegan Diet, and I've been eating either vegetarian or vegan since 1996.   I've eaten Vegan in so many different ways, and there is a profound difference in the results I've gotten depending on which version I was following.
But back to the point of why I'm telling you this – I don't eat Vegan because I KNOW it's the most healthful way of Eating, although I do know it can be very healthful, and maybe even Optimal, if you do it in the simple way I share.  I eat Vegan because I don't want to eat animals anymore.  I have a problem with it.
I used to be a hunter, but my compassion for anything living has made it just about impossible for me to eat animals again.  I say just about impossible because there could be something that could change my mind.
But back to you, I don't want you to be Vegan because some body sold it to you through their Dogma.  If you want to be Vegan, be sure you know why, because a lot of Vegans will tell you it's more healthy to be Vegan, when they are not as fit as many of their meat eating peers.
One more thing…  If you don't want to eat Vegan or Vegetarian, don't let that discourage you from gaining the knowledge that's in the program I want to share with you.  Many, if not most of the people I know that have thanked me over and over for sharing with them, are people that are not Vegan or Vegetarian.  They just benefited from me sharing my understanding of health and fitness in some way.
If you are Vegan or Vegetarian and what I've said above offends you, there's nothing I can do about that.  What I'm sharing here is to help you know if you want to use the information I want to share with you or not.
One thing I can assure you of is, I will be honest with you and do the best I can to help you out.
Now that we've got that out of the way, if you DO want to eat Vegan or Vegetarian Style in a way that will truly improve your health and appearance, you're going to love what I have share with you.
To put in in SIMPLE terms, the health and fitness knowledge I share with you is Simple to implement, and Simple to maintain, and it WORKS.
If you've been down the paths of Raw Food, Fruitarian, Vegetarian and Vegan, and haven't gotten the results you were looking for, I can relate, and my quest led me to Being Fit and Healthy.
The difference in the way I eat now compared to what I learned from the people in those communities is I don't follow their dogma anymore.  I get results and I feel good, and YOU can be free, and feel great physically too, through implementing the understanding I've laid out for you in Sexy Fit.
So What Is Sexy Fit?
Sexy Fit is a program consisting of 2 main parts:
Health Beyond Diet Dogmas and

Body Mastery Without A Gym
I share the best principles I've learned from my long time experience using myself as a LAB Rat.
I've been honest with myself, and I've found more than a handful of very good, simple principles that anyone can implement in their life immediately, that contribute to real health and strength.
So please allow me to share what you'll find inside of Health Beyond Diet Dogmas and Body Mastery Without A Gym.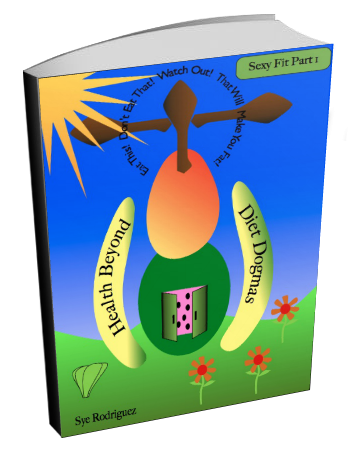 Health Beyond Diet Dogmas is about dropping all of the religion around food and becoming truly healthy; It's about feeling like a kid again when you're on the green grass in the park. It's about having the energy that makes you want to spontaneously burst into a sprint.
Below are a few of the chapters and sub titles from Health Beyond Diet Dogmas:
Who's The Expert?

A Journey To Health

The First Insight – Taking Responsibility

Rethinking Being A Vegetarian

Raw Food Breakthroughs And Some Confusion

A Word About Fasting

Some Debate About What's Good For Us

Good Oils Bad Oils And Nutrition Science Controversy

The Soy Question

Moving Beyond Dogma; And Fruit Under A Microscope
What I've listed above is only a taste of what you'll find in Health Beyond Diet Dogmas. Speaking of taste I've also included 23 Recipes.
You'll Learn principles instead of Dogmas to help you take your health to the next level and really feel good.
You'll learn about the FEW supplements that you might want to take, and the best forms of those supplements.
Health Beyond Diet Dogmas is about more than Eating. I've truly poured my soul into this book, and the story alone is one I know is going to help you.
Although Health Beyond Diet Dogmas is not only about Eating, I show you away to Eat that will transform you into a more beautiful and healthy person.
This book is ahead of it's time, but it's interesting to see some of the former Health Guru's that had a pretty dogmatic approach to How To Be Healthy, are now starting to lean in the direction I've been practicing for a long time.
Here's a question for you.
Do you want your life to be about food, or do you want it to be about you feeling and looking your best so you can spend your time doing the things you Truly LOVE to do?
I bet I know what your answer is.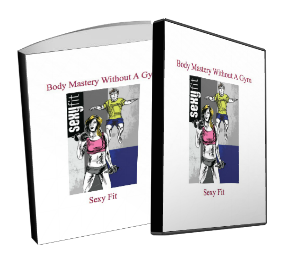 In Body Mastery Without A Gym you'll Discover How To Look Great And Get In Amazing Shape In Under 2 Hours Per Week.
Are you tired of unsustainable workout routines? You know what I'm talking about.
Those 6 days per week programs that you have to do for an hour per day to maintain. I admit that those exercise programs can help you to lose the weight and get in good shape, but there's a reason that people don't keep up with those programs.
It's not JUST that you're a busy person. It's also not easy to imagine doing that much intensity 6 days per week for the rest of your life.
I can relate, and I have Good News for you. I've been into fitness for most of my life, and I've tried just about everything to stay in great shape. I even like the feeling of getting a good sweat going, and feeling the blood pulse through my body. It's a rush, and there's no denying that your body requires you to use it, and even push it a little if you want it to perform awesome for you.
But the reason you're here is because your looking for something better than what you've been doing up to this point. Maybe you want to know where that optimal line is; The place where you exercise just enough – Not too little and not too much, with the optimal types of exercises to be in your top shape, and feeling great.
I've developed a program that's perfect for you – An exercise regime that will allow you to make the biggest gains with a minimal amount of effort. I call it Body Mastery Without A Gym
I'm not talking about GIANT gains of muscle mass, so if that's what you're looking for you might want to go join a gym and start doing some heavy lifting.
The program I've put together for you WILL help you to gain muscle mass, but it's what I like to refer to as functional muscle – The kind of muscle that is powerful, but allows you to keep your full range of motion.
I'm talking about getting completely functionally fit.
When your functionally fit, you are ready for anything because your body has been conditioned to run like a well oiled machine.
You'll be learning a range of very simple exercises, Most of which you can do anywhere, that will get your blood flowing and help you to build strength and fitness.
What's really great is, you'll only need to spend about 2 hours per week to achieve the results I'm talking about, and you can get great results in much less time than that as you refine the exercises I'm sharing with you to tailor to you specifically.
What I share with you in Body Mastery Without A Gym is a program that is laid out for you, in detail. You'll know exactly what to do, and what days to do it, and I recommend you follow it as closely as you can for the first 60 days.
What I want to do is give you a solid base that will help you to look, feel, and perform great in a way that's completely sustainable. The way I've put these exercises together will allow you to achieve that.
Once you've set the habit in those first 60 days, you can take what you've learned and modify it a little to suit you.
I've been doing the same types of exercises that I teach in Health Beyond Diet Dogmas for many years now, and I modify my basic routine every once in a while to change things up a bit.
That's what I want for you. I'm going to help you get into great shape, while getting to know your body even better than you do now, and once you've got the basics down, you'll be able to take what you've learned and confidently change it up a little here and there.
To sum up what I'm trying to say, I'm going to help you become a master of your body, and in a very short period of time.
Over time I've been able to shorten my workout time, and make my workout more flexible, with even better results than I was getting when I spent more time.
Some benefits you'll notice as a result of using Body Master Without A Gym are:
•    Increased energy levels.
•    A stronger, sexier body.
•    Increased flexibility.
•    Feeling better more of the time.
•    Improved stamina.
In addition, you'll increase levels of the youth promoting hormone and save lots of time.
So why should you listen to me?
As, I stated earlier, I've been working on my own health and fitness for most of my life, and I've learned important distinctions that have helped me to increase my results with a minimal amount of effort.
You may have learned in previous writings of mine, that my Dad was Mr America and he trained in Martial Arts with Bruce Lee.
He helped me to get started down this path, and I learned a lot from what he shared with me when I was growing up.
Here's My Dad!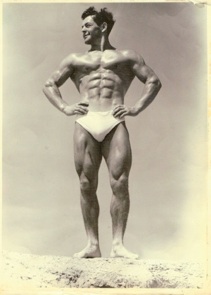 One thing my Dad taught me was to keep the workout moving along. Many people go and Hang OUT at the Gym; They're often doing a lot more talking than exercising though.
I've taken my regime completely outside of the Gym. I get the job done quick and there's lots more time to do what I really want to do.
My idea of hanging out while working out, is going on a Mountain Bike Ride. My little exercise regime keeps my fitness level high, so the Mountain Biking is more like PLAY.
So What's Inside Body Mastery Without A Gym?
Body Mastery Without A Gym Includes a digital copy of my book that has more than 200 pictures that show you exactly how to do each and every exercise I teach you.
The core exercises are mostly body weight exercises that help you to increase your STRENGTH, SPEED and FLEXIBILITY.
In addition the book explains in detail how to do each exercise properly for maximum benefit, so there's no question left unanswered.
I lay the exact workout plan out in detail, so you don't have to wonder at all how you should implement these exercises.
I also reveal and demonstrate a whole set of exercises that are designed specifically to help you keep your spine in amazing condition, and these same exercises often relieve people of back pain.
You'll discover a method of meditation I've been practicing for a long time that is not well known, and is extremely beneficial to your overall health.
In addition, I've included a chapter that covers the basics of Eating for your Best Body in a very simple and easy to understand way.
The book on it's own is easily worth the cost of Body Mastery Without A Gym, but that's not all you're going to get.
I'm also including The Sexy Fit ~ Body Mastery Without A Gym Video which is an hour long. In the video I do every exercise that's in the book so you know exactly how to do each exercise properly. This includes the Core Exercises, the exercises for the Spine, and the meditation.
I wanted to make sure it would be super easy for you to start using Body Mastery Without A Gym immediately so you can see the positive difference it will make in your life.
So Let Me Share My Experience with you so you can get to doing what you Love, and doing it better than ever before because you Feel Good, Look Great, and you have the confidence to do it.
I have helped a lot of people feel better by sharing what I've learned with them and I currently offer one on one coaching to help people be more healthy and fit for 100.00 per session. I will probably have to raise that price soon.

Here's The Good News!
What's in Health Beyond Diet Dogmas and Body Mastery Without A Gym is worth far more than any single session I could give a person, and right now I'm making it available to you for a fraction of what I offer my one on one coaching for; and it's risk free to you.
In addition this is a digital program, so it's available to you as an instant download once your payment is complete.
I'm so sure you'll be better off after getting your hands on the knowledge that's in Health Beyond Diet Dogmas and Body Mastery Without A Gym, that I'll happily refund 100% of your money, if you are not happy with it for any reason.
That's right. If you don't feel like The Sexy Fit Program will Truly Benefit you once you've had a chance to check it out, I'll give you 100% of your money back.
Not to mention I'm giving you a full 60 days to review it and implement what you learn, so you can see the difference in how you look and feel.
But Wait.
Before you place your order, I want to make sure you feel great about what I'm delivering. Health Beyond Diet Dogmas and Body Mastery Without A Gym Aren't All You're Going To Get.
In addition you're also going to get 2 MP3 Downloads of Interviews I did with Susan Smith Jones.
Susan has written more than 25 books and over 1500 articles on the the subject of Holistic Health.
The Joy Factor ~ More Joy And Less Stress In 7 Easy Steps and
Live With More Joy, Vitality And Power
Each interview is about an hour long and Susan Truly Lives What She Teaches, so she knows what she's talking about. I know you're going to love her.
So Let's Take One More Look At Everything You're Getting When You Invest In The Complete Sexy Fit Program Today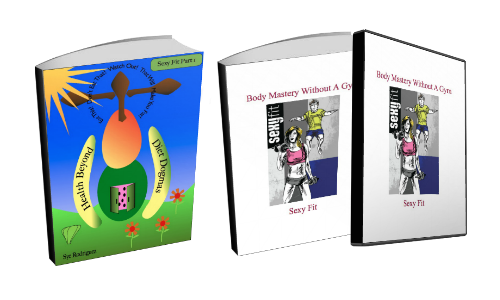 You're Getting Digital Downloads Of…
The Health Beyond Diet Dogmas E-book


The Body Mastery Without A Gym E-book

The Body Mastery Without A Gym – Sexy Fit Video

The Joy Factor ~ More Joy And Less Stress In 7 Easy Steps

Live With More Joy Vitality And Power
So you're probably wondering how much this is all going to cost you, and I won't leave you wondering any longer.
Today you can get The Entire Sexy Fit Program for only 34.00. That's it.
No count down, no false claims about how this deal will be gone in 60 seconds, although I do reserve the right to take this offer down at anytime.
I just want to get this information in your hands so you can start benefiting from it now.
It's my hope that once you start seeing the benefits you'll tell others about Sexy Fit.
Once you Click the Add To Cart button below, You'll Be Taken to an order page to enter your details. My payment processor uses Paypal, which allows you to pay with your Paypal account or with a Credit Card.
You'll be able to access your products in just a few minutes, and you have nothing to lose with my Guarantee. Just Click The Order Now button below, and you'll be able to start benefiting from Health Beyond Diet Dogmas in the next few minutes.

Order Now
Now I know there are a lot of Health and Fitness programs out there, so why should you invest in Sexy Fit?
What you'll learn in Sexy Fit is my own proven system that keeps me in Great condition and out of the Doctors Office.  I've been working on it for most of my life, and it's unique compared to all of the other programs I've seen out there.
I turned 44 years old this year, and I can still catch my 17 year old nephew who's in amazing shape even when compared to other athletes his own age.
We play a game called infected where 1 person is IT in the start, and as they catch each person, those people are Infected along with them, and go after the other uninfected people.
So when I say I can catch him, it's when I run after him when he's in a full on sprint.
When I go Mountain Biking with my family and friends I get to the top of the mountain FIRST. The funny thing is, I only go Mountain Biking once in awhile and it's a regular thing for most of them.
I only share these details with you to help you see what's possible for you with Sexy Fit.
The Fact that I'm 44 right now should give you hope if you're in that age range, but if you're younger than I am, you should feel like you can take Sexy Fit and out do me physically.  I'm up for the challenge, are you?
In addition, the cost of Sexy Fit is a fraction of what many of the other popular programs cost, and this one is more sustainable, and it's about MORE than exercise and eating.

I am excited about sharing what's in Sexy Fit with you, and hearing about how much it helps you get into the kind of shape that will have your friends wondering what the heck you did.
If you're ready to transcend yourself, and Get and STAY Healthy, Fit and Sexy, without spending all of your spare time working out, I invite you to experience Sexy Fit.