Discover A Lifestyle And Way Of Eating That Will Help You Be More Beautiful And Healthy Than You've Ever Been Before.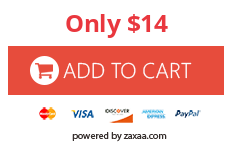 If you've been seeking out the ideal diet and way of life to be the healthiest version of yourself, only to find yourself more confused and possibly less healthy than you were before you started down this path, then today is your LUCKY Day.
I know that might sound a little arrogant for me to jump out and say I know better than everyone else you've learned from, but give me a few minutes of your time and I'll explain a little bit.
Maybe you've tried the Raw Food Diet, The Paleo Diet, or Just being Vegan or Vegetarian and your still unsure about what's really going to help you be really healthy.
When I say Healthy, I'm talking about feeling fully alive and full of energy. I'm talking about having a kind of energy that makes you feel like a kid again; The kind of energy that feels rejuvenating to your whole being.
Maybe you consider yourself healthy but you know you could feel and look better.
Here's the good news. You can improve your health immensely and I want to share what I've learned about health with you.
Your body is like an instrument, and every thought you have, everything you do, and everything you put into your body brings it a little closer to perfectly tuned, or causes it to be a little more out of tune.
The number one thing you can do right now to become more healthy from my experience is to Love Yourself Unconditionally. I know that might sound a little silly, but accepting and loving yourself right now, Fully, as you are is going to make it a lot easier to move forward from here.
So why should you listen to me about Health?
I'm going to keep this short, as this is really about you, but here I go.
My Dad was Mr. America and he also practiced Wing Chung and Jeet Kune Do with Bruce Lee. He was a very fit person, but unfortunately that didn't stop him from developing heart problems later in life which eventually led to his death.
I decided long before his death that I wanted to be the youngest old person long before my dad died, but his death did help me to realize that fitness and health don't always go hand in hand.
To make a long story short, I've been working on being healthy and fit for most of my life. I started out doing exercises that kept me physically fit, and at some point when I experienced some minor health issues, I decided I didn't want to do what the Doctor said.
I wanted to fix myself.
I became a vegetarian in 1996, and shortly after that I did a 6 day Fresh Juice Fast, that consisted of Beet Celery And Carrot Juice, and that's it.
I felt amazing after that fast, and I began to understand the healing power of fresh foods. I had a vision of myself being made of fruits and vegetables, and eventually became one of the most extreme Raw Food Eaters of anyone I've ever known.
My wife and I were Pure Raw Food Eaters for 8 months. We didn't make exceptions, except once when I drank some coffee, which was really crazy by the way after having eaten only raw foods for so long.
Eventually we drifted away from Raw Foods and Started Eating Vegan, but in a more healthful way than any vegans I knew up to that point.
We talked about our days of being 100% Raw pretty often, and wondered if that would be something we'd do again.
Later we experimented with 80 10 10, the mostly fruit high carbohydrate vegan lifestyle, and that had some benefits, but we still felt there was a better way.
Moving to the present, I've tried so many different ways of eating to be healthy. I finally figured out some key distinctions that have worked like a charm in helping me to feel and look better.
The truth is I feel really good most of the time, and I want to share my experience with you so you can too.
Health Beyond Diet Dogmas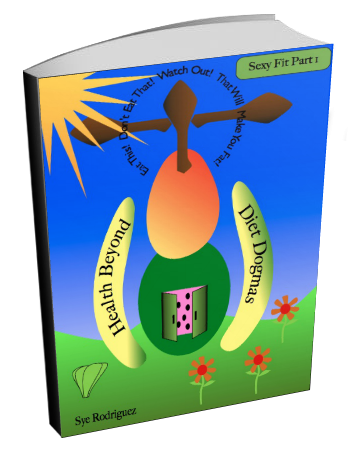 Health Beyond Diet Dogmas is about dropping all of the religion around food and becoming truly healthy; It's about feeling like a kid again when you're on the green grass in the park. It's about having the energy that makes you want to spontaneously burst into a sprint.
Below are a few of the chapters and sub titles from Health Beyond Diet Dogmas:
Who's The Expert?

A Journey To Health

The First Insight – Taking Responsibility

Rethinking Being A Vegetarian

Raw Food Breakthroughs And Some Confusion

A Word About Fasting

Some Debate About What's Good For Us

Good Oils Bad Oils And Nutrition Science Controversy

The Soy Question

Moving Beyond Dogma; And Fruit Under A Microscope
What I've listed above is only a taste of what you'll find in Health Beyond Diet Dogmas. Speaking of taste I've also included 23 Recipes.
You'll Learn principles instead of Dogmas to help you take your health to the next level and really feel good.
You'll learn about the FEW supplements that you might want to take, and the best forms of those supplements.
Health Beyond Diet Dogmas is about more than Eating. I've truly poured my soul into this book, and the story alone is one I know is going to help you.
Although Health Beyond Diet Dogmas is not only about Eating, I show you away to Eat that will transform you into a more beautiful and healthy person.
This book is ahead of it's time, but it's interesting to see some of the former Health Guru's that had a pretty dogmatic approach to How To Be Healthy, are now starting to lean in the direction I've been practicing for a long time.
Here's a question for you.
Do you want your life to be about food, or do you want it to be about you feeling and looking your best so you can spend your time doing the things you Truly LOVE to do?
I bet I know what your answer is.
So Let Me Share My Experience with you so you can get to doing what you Love, and doing it better than ever before because you Feel Good, and you have the confidence to do it.
I have helped a lot of people feel better by sharing what I've learned with them and I currently offer one on one coaching to help people be more healthy for 100.00 per session.  I will probably have to raise that price soon.

Here's The Good News!
What's in Health Beyond Diet Dogmas is worth far more than any single session I could give a person, and right now I'm making it available to you for a fraction of what I offer my one on one coaching for; and it's risk free to you.
In addition this is a digital book, so it's available to you as an instant download once your payment is complete.
I'm so sure you'll be better off after getting your hands on the knowledge that's in Health Beyond Diet Dogmas, that I'll happily refund 100% of your money, if you are not happy with it for any reason.
That's right. If you don't feel like Health Beyond Diet Dogmas will Truly Benefit you once you've had a chance to check it out, I'll give you 100% of your money back.
Not to mention I'm giving you a full 60 days to review it and implement what you learn, so you can see the difference in how you look and feel.
But Wait.
Before you place your order, I want to make sure you feel great about what I'm delivering. Health Beyond Diet Dogmas Isn't All You're Going To Get.
In addition you're also going to get 2 MP3 Downloads of Interviews I did with Susan Smith Jones.
Susan has written more than 25 books and over 1500 articles on the the subject of Holistic Health.
The Joy Factor ~ More Joy And Less Stress In 7 Easy Steps and
Live With More Joy, Vitality And Power
Each interview is about an hour long and Susan Truly Lives What She Teaches, so she knows what she's talking about.  I know you're going to love her.
So let's go over what you're getting once more.

You're Getting Digital Downloads Of…
Health Beyond Diet Dogmas!

The Joy Factor ~ More Joy And Less Stress In 7 Easy Steps

Live With More Joy Vitality And Power
So you're probably wondering how much this is all going to cost you, and I won't leave you wondering any longer.
Today you can get Health Beyond Diet Dogmas for only 14.00. That's it.
No count down, no false claims about how this deal will be gone in 60 seconds, although I do reserve the right to take this offer down at anytime.
I just want to get this information in your hands so you can start benefiting from it now.
It's my hope that once you start seeing the benefits you'll tell others about Health Beyond Diet Dogmas.
Once you Click The Add To Cart Button You'll Be Taken to an order page to enter your details.  My payment processor uses Paypal, which allows you to pay with your Paypal account or with a Credit Card.
You'll be able to access your products in just a few minutes, and you have nothing to lose with my Guarantee.  Just Click The Order Now button below, and you'll be able to start benefiting from Health Beyond Diet Dogmas in the next few minutes.

Order Now